PROJECTION / SCREEN SIZE CALCULATOR
OPTOMA HD29DARBEE PROJECTOR (EX-DEMO)
Lumens: 3200
Resolution (Native): Full HD 1920 x 1080
Throw Ratio: 1.48-1.62
Contrast: 30,000
Technology: DLP
HDMI Inputs: 2
Lamp Life (Est.): 8000
SKU: RF.HD29Darbee
EAN: 5055387650046
These Ex-Demo models are almost brand new but at a very heavily reduced price, with no more than 20 hours lamp usage and brand new packaging/accessories, these are a bargain! Very Limited Stock. The Optoma HD29Darbee is an ideal projector for use in large venues to show crisp detail. With th ... Read more
OUT OF STOCK
CALL FOR AVAILABILITY
SAVE OVER £200 - ONLY 20 HOURS OR LESS LAMP USAGE
SAVE ON THE WEB PRICE OR NEED ADVICE?
Product Info
These Ex-Demo models are almost brand new but at a very heavily reduced price, with no more than 20 hours lamp usage and brand new packaging/accessories, these are a bargain! Very Limited Stock. The Optoma HD29Darbee is an ideal projector for use in large venues to show crisp detail. With the bright 3200 lumens, it is powerful enough to cope with a large audience in a large room. There is also a 10W speaker for added audio.
​You can present with the lights on throughout the day and still get a bright and clear image. This Optoma projector can be installed so call us to discuss installation if this is something you are thinking about. It has a wide throw ratio so it gives you quite a bit of flexibility in where you can mount your projector. The keystone correction will also give you that extra freedom because if you cannot mount your projector in the centre of the screen and are slightly off-set, this feature will help you still project in the middle of the screen. We can also help you with a screen if you are unsure which one to go for. It is also light enough to carry from room to room as it is only 2.38KGs.
The 1080p Full HD resolution will be suitable for anything you wish to project from basic data to Blu Ray movies. The HD29Darbee has two HDMI inputs allowing you to connect to any source and show your image in high definition. It also features MHL so you can show content in high definition from your mobile device. There is also a USB port for mouse control and PC-free presentations, giving you less to transport. The 12V Trigger will be a great feature if you want your screen to come down automatically when you turn the projector on. We can let you know which screens are compatible with this. You will be able to connect to multiple sources without swapping the cables around. It is environmentally friendly and has energy saving features including Eco+ lamp power management. It has a long lamp life of 8000 hours so you won't be needing to think about lamp replacements anytime soon! The HD29Darbee also supports 3D. Overall, this is a great, powerful unit with great connectivity. It also integrates DARBEE Visual Presence image enhancement technology to bring you revolutionary levels of depth and realism. Check out the PDF to the left for more information.
Official Optoma Refurbished Unit - Almost Brand New But Lots Cheaper
- New carton and internal packaging (plain carton with generic airbag if the carton for this specific model is not available)
- New lamp if +100 hours usage or exhibits any issues that affect performance/operation.
- Factory reset
- Latest firmware installation
- General check of internal parts and replaced if necessary
- Full engine clean and dust removal from the DMD chip
- New top cover / general cosmetics
- New accessories if needed
- The Optoma refurb units although are almost brand new, please be aware that there may be the odd scratch here or there as they are refurbished units.
What Optoma say about the HD29Darbee
Lights on viewing – 3200 ANSI Lumens
Easy connectivity - 2x HDMI and MHL support and built-in 10W speaker
Amazing colour - accurate Rec.709 colours
Award winning Darbee Visual Presence™ technology inside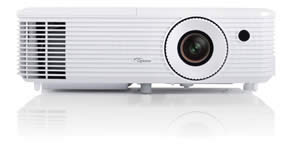 Convenient and easy to setup, the bright and versatile all new HD29Darbee projector integrates DARBEE Visual Presence™ image enhancement technology to bring you revolutionary levels of depth and realism.

Optoma's advanced colour technology, multiple settings and features enable users to enjoy long-lasting, reliable and precise colour for vibrant, lifelike images - perfect for immersive gaming, live sports and home entertainment any time of day. It also features Enhanced Gaming Mode with a 16ms response time, ideal for gaming enthusiasts.


An integrated speaker provides great sound and two HDMI inputs enable an easy setup. Games consoles, Blu-ray players, set top boxes or other HDMI devices like Google Chromecast, Amazon Fire Stick or Apple TV™ can be connected. Perfect for gaming, streaming videos and sharing photos on the big screen in the comfort of your own home.

Weighing less than 2.5kg you can take it to a friend's for a sports event, movie night or games marathon.
DARBEE
Darbee's acclaimed Visual Presence™ patented technology further enhances Optoma projection technology, from Blu-rays to video games, and instantly improves the way it looks. Visual Presence adds more depth and realism delivering a clearer sharper picture by embedding stereoscopic depth information from a human-vision-based model. The image processing is adjustable, giving you the flexibility to customise the visual enhancement to suit your particular taste.
Watch your movies, TV shows and play games with stunning colours in any environment. Optoma projectors provides you with reliable performance suitable for any content and environment. Our home projectors are capable of reproducing the Rec.709 colour gamut, the international HDTV standard to guarantee accurate reproduction of cinematic colour exactly as the director intended. Or more saturated colours for a punchy looking image, great for gaming and animated movies.
Optoma projectors can display true 3D content from almost any 3D source, including 3D Blu-ray players, 3D broadcasting and the latest generation games consoles.
Gaming mode optimises your projector for lightning response times, maximum contrast and vivid colours to capture every detail - leaving you time to focus on winning.
Complete your home entertainment experience with the convenience of a powerful built-in speaker. Built-in speakers provide exceptional sound quality and are easy to set up without the need for costly external speakers.
Turn your projector into a smart display by connecting your smartphone or tablet with a single cable using MHL; now you can view presentations and documents, stream videos and share photos on the big screen.
There may be instances when the projector is left running when not in use. To help save energy, the "Auto Power Off" feature automatically turns off the projector after a set period of time if it is not being used.
Specifications
Weight (Kgs)
2.3800
Additional Price Box Text

SAVE OVER £200 - ONLY 20 HOURS OR LESS LAMP USAGE

Technology
DLP
Lumens
3200
Throw Ratio
1.48-1.62
Resolution (Native)
Full HD 1920 x 1080
Lamp Life (Est.)
8000
More Info

Full 1080p Resolution

Bright 3200 Lumens

10W Built In Speaker

Long lamp life

2 x HDMI With MHL

USB

Full 3D Mode Available
Delivery & Returns
Delivery Charges
Delivery Rates to mainland UK - (excluding large screens and Touch Screens
Delivery is to ground floor, if you have special delivery instructions you must contact us to ensure that we can have the best chance of success in delivering the item. We required items to be signed for.
Working Delivery dates are Monday to Friday unless Saturday delivery is selected.
7-10 weeking days delivery is free of charge
2-3 Days £8 + vat
Next Day £12 + vat - if ordered before cut off
Saturday £35 + vat - Be careful choosing this option, it has he highest incidence of failure with all couriers.
Delivery cut off is 4pm on most items - earlier time exceptions are Metroplan screen, large items, items requiring a pallet. If you order after 4pm then the order is processed the next day, that means if you ordered Tuesday at 8pm at night, the next day delivery option is Thursday as the order is processed on the Wednesday.
Delivery Rates to non-mainland UK + Eire - (excluding large screens and Touch Screens)
Non Mainland and the Highlands and Islands- this includes the Isle of Wight, any thing that goes over water that does not have road access. These rates are determined by couriers based on postcode. If there are multiple items then we may need to quote you for delivery.
2-3 Days £35 + vat
Large Screens +3m wide & Touch Screen
By Quotation - they might not be able to be next day as specialised couriers are often required.
Returns
Faulty Items
Goods Reported Faulty Within 28 Days of Receipt.
If you have a faulty item and are reporting the fault within 28 days of receipt (please note that for business customers, this is 14 days). When the goods are returned to us complete, we'll issue a full refund to you via your original payment method.We will try and ensure that there is a fault, that often requires is running diagnostics or getting the manufacturer to speak to you directly to determine whether there is a genuine fault rather than just a set up error.
Goods Damaged in Transit.
If your goods were damaged in transit it must be reported to us within 3 days. If goods are visibly damaged on receipt the delivery note must be marked accordingly. Once the damaged goods have been collected and received back into our warehouse, we'll issue a refund via your original payment method. We will require pictures of the damage.
Consumers - If You Have Changed Your Mind – this is for personal use not business or organisations
If you are a private consumer and have changed your mind as long as the goods have not been in your possession for over 14 days, and the item can be sold again as new, then you are entitled to return the goods to us. If the item you are returning is a Projector, the lamp hours used must not have exceeded 3 hours otherwise a restocking fee will be applied. The cost of returning items is the responsibility of the customer. As new means in original packaging with complete accessory packs and manuals. If any item is marked/damaged, including the packing, there may be a restocking fee. Please contact us directly before sending any goods back to obtain an RMA number without this there may be a delay in dealing with your return. If you purchased for a company, or an organisation you are not deemed a Consumer by law.
About Optoma
Optoma offer a good range of business projectors, home cinema solutions & they also have quite a few laser projectors that are great for large venues. Their current ranges of resolution go from SVGA to 4K UHD. We have a great relationship with Optoma and have a lot of their 'Ex-Demo' stock. This means it comes direct from Optoma themselves, and they have been opened/used so cannot be classed as new units but this is heavily reflected in the prices and are very popular. Models ending in "ST" are short throw & their 'Darbee' range is aimed for gaming which has a certain technology inside. Optoma Projectors have a good range of 3D projectors which are priced at very attractive prices. The Optoma HDCast Pro, is one of our best selling wireless adapters that lets you projector wirlessly from a laptop or mobile device.
Reviews
Other Suitable Alternatives
ABOUT JUST PROJECTORS
We provide advice on the phone listening to your requirements we are able to help you get the right one as we have trained staff . We have a network of installers to cover your area. On higher end models we can arrange a loan or demo. We think most people should buy HD resolution , they are so affordable now and you wouldn't buy a 5 year old laptop so why buy SVGA which is over 20 years old. Yes XGA & WXGA are ideal for simple presentations and education use but we have all been use to decent home TV's or high resolution phones or tables so why put a huge image on the wall/screen which is inferior. There are some great brands out there BenQ, Infocus, Epson and less known ones like EIKI or Vivitek. Yes you can buy the wrong one, this is why we still offer advice rather than just an add to cart website. We have a price promise, we see the models, we often put one against another and see which one is best. We only buy UK stock,which has higher warranty standards to ensure you get real value for money. We don't sell the cheap brands as the lumens isn't verified. Look at our name it tells you that we are committed to this product and we have a great reputation in the market place for price and customer service. We supply the UK but also in Ireland, we offer a 1-3 day service to Ireland.
Why Buy From Us?
Largest Range in the UK
High Quality from Top Brands
Fast & Reliable Delivery
Instant Credit for Public Sector
Outstanding Customer Support
Technical Sales Advisors
Price Promise
Exclusive Education Packages Available
OPTOMA HD29DARBEE PROJECTOR (EX-DEMO)