PROJECTION / SCREEN SIZE CALCULATOR
OPTOMA HD152X PROJECTOR DISCONTINUED
Lumens: 3200
Resolution (Native): Full HD 1920 x 1080
Throw Ratio: 1.4-2.24
Contrast: 30,000
Technology: DLP
HDMI Inputs: 2
Lamp Life (Est.): 15000
SKU: E1P0A0HWE1Z2
EAN: 5055387651159
The HD152X is a bright 1080p Full HD projector suitable for the home cinema as it has an excellent refresh rate so if you are gamer then its a dream. If you love movies then you will get the benefit of the excellent colours.. It is lightweight and portable so you can transport it easily from room ... Read more
OUT OF STOCK
CALL FOR AVAILABILITY
Paypal now accepted in the checkout
SAVE ON THE WEB PRICE OR NEED ADVICE?
Product Info
The HD152X is a bright 1080p Full HD projector suitable for the home cinema as it has an excellent refresh rate so if you are gamer then its a dream. If you love movies then you will get the benefit of the excellent colours.. It is lightweight and portable so you can transport it easily from room to room. Alternatively, you can also ceiling mount this; it has quite a wide throw ratio so you will have plenty of freedom in where to mount the projector. We install units throughout the UK, so give us a call if this is something you are thinking about. We can also help you choose a suitable screen.
Just Projectors review on the Optoma HD152X
The bright 3200 lumens will ensure that you can present in a well lit room without having to turn the lights off or close the blinds. The Optoma HD152X has Full HD resolution so it will be suitable for anything you wish to project from basic data to Blu Ray movies and will show great clarity all day. It even has Gaming Mode which enhances the detail. The long lamp life will sure keep you going longer than you expect! There is also a 10W built in speaker which will be more than enough for home use. If you have a larger audience you may have to attach additional speakers.
The HD152X includes 2 HDMI ports allowing you to connect to more than one source at a time without swapping cables around. One port includes MHL which means you can project in high definition from your mobile device. There is a USB port for PC-presentations so when you are travelling you don't have to carry a laptop with you. If you do decide to have this projector mounted, there is a 12V trigger so when you turn the projector on, the screen will automatically come down. Again, we can advise you on which screens will do this. The only connection it is missing is the old VGA port for older computers, however, we can provide an adaptor for this but the outcome will then not be in HD.
Overall, this is a bright and modern projector with all of the main connections. For more information please do not hesitate to give us a call or check out the PDF to the left.
What Optoma say about the HD152X
Installation flexibility – Vertical lens shift and 1.6x zoom
Easy connectivity - 2x HDMI and MHL support and built-in 10W speaker
Amazing colour - accurate Rec.709 colours - 3200 ANSI Lumens
Award winning Darbee Visual Presence™ technology inside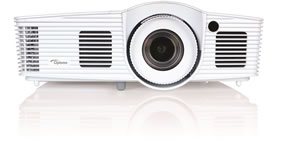 The HD152X couples high-end home cinema performance with bright, vibrant visuals to produce a stunning Full HD 1080p viewing experience. It also integrates DARBEE Visual Presence™ image enhancement technology to bring you revolutionary levels of depth and realism.

Optoma's advanced colour technology, multiple settings and features enable users to enjoy long-lasting, reliable and precise colour for vibrant, lifelike images - perfect for immersive gaming, live sports and home entertainment any time of day. It also features Enhanced Gaming Mode with a 16ms response time, ideal for gaming enthusiasts.

Equipped with a large 1.6x zoom range, vertical lens shift, an integrated speaker and two HDMI inputs enable an easy setup. Games consoles, Blu-ray players, set top boxes or other HDMI devices like Google Chromecast, Amazon Fire Stick or Apple TV™ can be connected. Perfect for gaming, streaming videos and sharing photos on the big screen in the comfort of your own home.
Darbee's acclaimed Visual Presence™ patented technology further enhances Optoma projection technology, from Blu-rays to video games, and instantly improves the way it looks. Visual Presence adds more depth and realism delivering a clearer sharper picture by embedding stereoscopic depth information from a human-vision-based model. The image processing is adjustable, giving you the flexibility to customise the visual enhancement to suit your particular taste.
Gaming mode optimises your projector for lightning response times, maximum contrast and vivid colours to capture every detail - leaving you time to focus on winning.
1080p resolution gives you sharp and detailed images from HD content without downscaling or compression; perfect for watching Blu-ray movies, HD broadcasting and playing video games.
Optoma projectors can display true 3D content from almost any 3D source, including 3D Blu-ray players, 3D broadcasting and the latest generation games consoles.
Complete your home entertainment experience with the convenience of a powerful built-in speaker. Built-in speakers provide exceptional sound quality and are easy to set up without the need for costly external speakers.
This feature gives more depth to your image by smoothly adjusting the lamp output, based on the brightness information of each frame; to create a stunning high contrast ratio. Bright scenes appear crisp and clear, while dark scenes remain detailed with deep blacks and exceptional light and shade detail.
This feature allows you to save your calibrated day and night mode settings for the highest possible viewing experience.
Most movies are shot at 24 frames per second (fps). To preserve the purity of the original image, Optoma projectors can accept high definition sources at 24 fps to display movies exactly as the director intended.
This feature allows the projector to be instantly powered on again, if it is accidentally switched off.
Use the USB-Power to power an HDMI dongle, such as Google Chromecast.
Simplify installation with vertical lens shift, which provides a wider range of projector placement possibilities. This makes it easier to position the projector in your room and enables a wider range of screen size options.
There may be instances when the projector is left running when not in use. To help save energy, the "Auto Power Off" feature automatically turns off the projector after a set period of time if it is not being used
If you wish to upgrade your warranty to an additional RTB warranty for a small extra charge​ then choose that when at the check-out . Full details are available from our sales advisers
Specifications
Weight (Kgs)
2.8100
Additional Price Box Text
Paypal now accepted in the checkout
Technology
DLP
Lumens
3200
Throw Ratio
1.4-2.24
Resolution (Native)
Full HD 1920 x 1080
Lamp Life (Est.)
15000
More Info

Bright 3200 Lumens

2 x HDMI

1080p Full HD

Gaming Mode

Lightweight
Delivery & Returns
Delivery Charges
Delivery Rates to mainland UK - (excluding large screens and Touch Screens
Delivery is to ground floor, if you have special delivery instructions you must contact us to ensure that we can have the best chance of success in delivering the item. We required items to be signed for.
Working Delivery dates are Monday to Friday unless Saturday delivery is selected.
7-10 weeking days delivery is free of charge
2-3 Days £8 + vat
Next Day £12 + vat - if ordered before cut off
Saturday £35 + vat - Be careful choosing this option, it has he highest incidence of failure with all couriers.
Delivery cut off is 4pm on most items - earlier time exceptions are Metroplan screen, large items, items requiring a pallet. If you order after 4pm then the order is processed the next day, that means if you ordered Tuesday at 8pm at night, the next day delivery option is Thursday as the order is processed on the Wednesday.
Delivery Rates to non-mainland UK + Eire - (excluding large screens and Touch Screens)
Non Mainland and the Highlands and Islands- this includes the Isle of Wight, any thing that goes over water that does not have road access. These rates are determined by couriers based on postcode. If there are multiple items then we may need to quote you for delivery.
2-3 Days £35 + vat
Large Screens +3m wide & Touch Screen
By Quotation - they might not be able to be next day as specialised couriers are often required.
Returns
Faulty Items
Goods Reported Faulty Within 28 Days of Receipt.
If you have a faulty item and are reporting the fault within 28 days of receipt (please note that for business customers, this is 14 days). When the goods are returned to us complete, we'll issue a full refund to you via your original payment method.We will try and ensure that there is a fault, that often requires is running diagnostics or getting the manufacturer to speak to you directly to determine whether there is a genuine fault rather than just a set up error.
Goods Damaged in Transit.
If your goods were damaged in transit it must be reported to us within 3 days. If goods are visibly damaged on receipt the delivery note must be marked accordingly. Once the damaged goods have been collected and received back into our warehouse, we'll issue a refund via your original payment method. We will require pictures of the damage.
Consumers - If You Have Changed Your Mind – this is for personal use not business or organisations
If you are a private consumer and have changed your mind as long as the goods have not been in your possession for over 14 days, and the item can be sold again as new, then you are entitled to return the goods to us. If the item you are returning is a Projector, the lamp hours used must not have exceeded 3 hours otherwise a restocking fee will be applied. The cost of returning items is the responsibility of the customer. As new means in original packaging with complete accessory packs and manuals. If any item is marked/damaged, including the packing, there may be a restocking fee. Please contact us directly before sending any goods back to obtain an RMA number without this there may be a delay in dealing with your return. If you purchased for a company, or an organisation you are not deemed a Consumer by law.
Reviews
Other Suitable Alternatives
Why Buy From Us?
Largest Range in the UK
High Quality from Top Brands
Fast & Reliable Delivery
Instant Credit for Public Sector
Outstanding Customer Support
Technical Sales Advisors
Price Promise
Exclusive Education Packages Available
OPTOMA HD152X PROJECTOR DISCONTINUED